Jurassic World: Dominion Dominates Fandom Wikis - The Loop
Play Sound

Yelda is the teacher of the arithmetic level in AEWVS, He is also Viktor's apparent best friend.
Description
[
]
He wears a light blue buttoned shirt with a grey jacket over it. He also appears to be wearing beige pants and brown shoes. Strangely, his head is a clock with black eyes and a mouth. He also holds some books and an apple, his favourite fruit!
Mechanics
[
]
When the level starts, Yelda will greet the player similar in fashion to Viktor's introduction, albeit more rushed. After finishing all of the questions, Yelda would then ask the player to excuse him for a moment, leaving the player locked in the classroom. 
If the player decides to wait for Yelda, approximately five minutes later he would arrive back in the classroom, thanking the player for waiting. He would then allow the player to leave his floor, bidding them farewell.
If the player escapes the classroom by climbing through a loosely screwed vent, Yelda would arrive back only to shout in frustration. He will then begin his search for the player.
Yelda makes a 'ticking' noise which allows the player to identify their location. However, the ticking would gradually grow rapid as time goes by, making his movement paces more frequent. If the player is not out of the level after 10 minutes, his speed would increase to an insane pace, catching the player almost instantaneously. 
Quotes
[
]
| | |
| --- | --- |
| "Hi, there! I'm Yelda, the arithmetic teacher, and welcome to my floor! I hope that you are ready to learn. Now follow me to my classroom and hurry! Time is of the essence." |  Greeting the player. |
| "Welcome to my class! Mind the dust heh...Not many people make it this far. *ahem* Anyway... Check out that notebook at the desk. I already filled it out with problems." | Upon entering his classroom. |
| "Wow! You did splendidly! Viktor was right about you being smart!" | After answering all of the questions correctly. |
| "Great job. You made some mistakes though, but we'll iron them out later." | After answering most of the questions correctly. |
| "Eh... We should work on that..." | After answering most of the questions incorrectly. |
| "Now I'll go grab the other- ...Please excuse me for a moment." | After finishing the notebook. |
| "Sorry about that. It seems our time together has been cut short. The elevator has been unlocked for you to use. I look forward to seeing you again!" | If the player waits for Yelda to come back. |
| "Sorry about tha- ...Guess they lost their patience. But sadly for them, I have too. | If the player decides to escape before Yelda returns. |
| *Ticking* | When in a radius of him |
| "...Time is of the essence..." | After catching the player. |
Gallery
[
]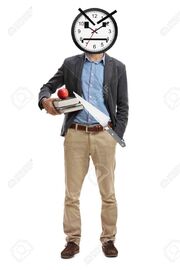 Yelda's angry form!